Looking to treat yourself to a brand-new duvet? It is pretty exciting to invest in new bedding. Not only will a beautiful new duvet make your bed look more inviting, but it can also help you feel cosier at night when you get to crawl into bed. However, there are two tricky aspects to purchasing a new duvet:
What colour and pattern to get
What size duvet to purchase
While we can't tell you what colour duvet will go best in your bedroom, we can help you choose the right size duvet for your bed.
What is a Duvet?
Before we talk about duvet sizes, let's first go over what a duvet is. A duvet is a soft quilted blanket that is stuffed with feathers, synthetic fibres or super warm down. Duvets have deep pillow-like pockets that make them feel lighter than a standard blanket or comforter. You won't feel weighed down under a duvet, but you will still be quite warm.
Duvet blankets are usually wrapped in a removable cover. You have more flexibility with a duvet since you can simply buy new covers anytime you want to change your décor. Changing the duvet cover will also help your duvet last quite a long time since it is nicely protected.
What Size Duvet Do I Need?
Duvets come in all different sizes to fit your bed perfectly. A duvet is designed to drape over the sizes of your bed, coming down over the edges by about 1 ½ feet on each side. A duvet should lay at the base of your pillows and then drape over the base of the bed by about 2 feet.
You want the duvet to cover more than just the top of your bed. This will not only look nice, but it will also be sure to completely cover you when you go to sleep.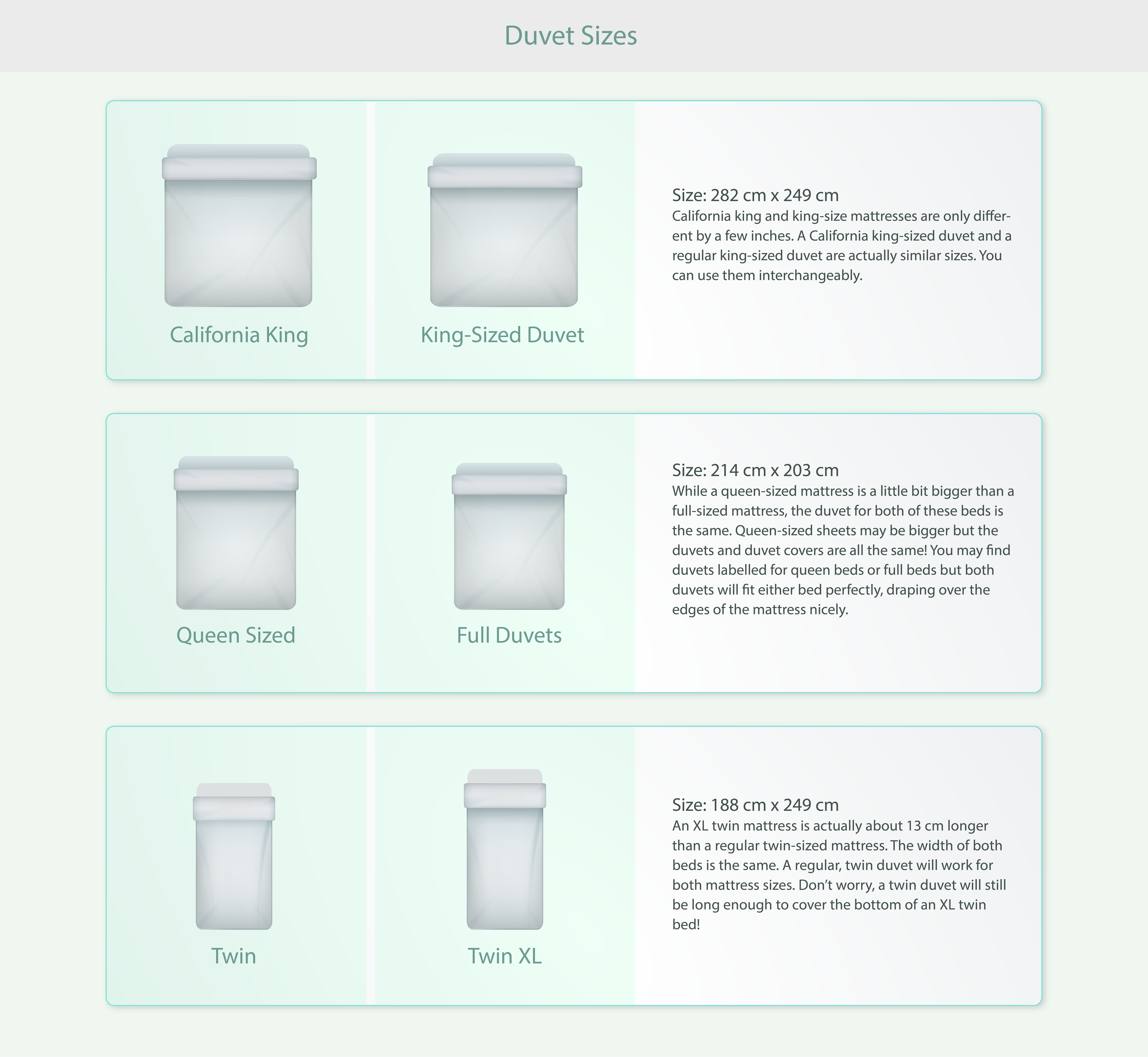 Keep in mind that duvet covers may vary slightly from brand to brand. However, our measurements are pretty accurate and should help you choose the best cover for your mattress size. So, grab a duvet that will fit your bed, pick out a pretty duvet cover and then hop into your new bed for a good night's sleep!